Utdanning
Dr. philos., magister i sosiologi, Universitetet i Oslo
Koordinator for komparativ nordisk og europeisk arbeidslivsforskning
Arbeidsområder
Arbeidslivsorganisering, arbeidsmigrasjon, europeisk integrasjon, globalisering, nordisk modell, fagbevegelse, lønnsdannelse.
Arbeider med prosjekter om framtidens arbeidsliv (Nordic Future of Work), arbeidsmigrasjon og fagopplæring (Moving Trades), digitalisering av arbeidslivet i Norge, Sverige og USA (NFRs VAM-program) og Arbeidsmandsforbundets framtid.
Publikasjonsliste og CV
Curriculum Vitae and publications Jon Erik Dølvik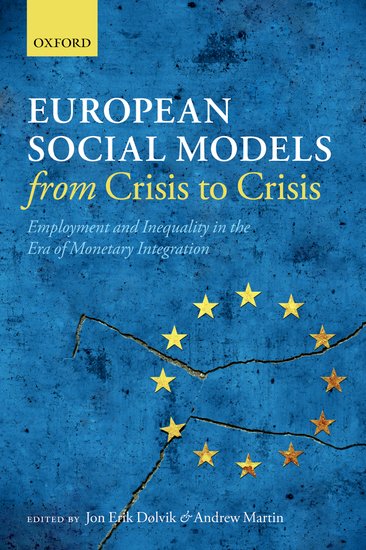 NOW IN PAPERBACK
European Social Models From Crisis to Crisis: Employment and Inequality in the Era of Monetary Integration
Edited by Jon Erik Dølvik and Andrew Martin
Fafo-rapporter og -notater
Grunnpilarene i de nordiske modellene
De nordiske aftalemodeller i åbne markeder – udfordringer og perspektiver
Den nordiske modellen mot 2030. Et nytt kapittel?
The Nordic model towards 2030. A new chapter?
From Financial Crisis towards a Coherent Agenda for Decent Work and Sustainable Globalization
De nordiske modellene etter 2000 – en sammenliknende oppsummering
Pathways to Decent Work in a Global Economy
The Nordic regimes of labour market governance: From crisis to success-story?
Grenseløst arbeidsliv?
EU-utvidelsen: Endringer i norske bedrifters arbeidskraftsstrategier?
Lavlønnskonkurranse og sosial dumping
Ti år med EØS-avtalen
Arbeidslivsrelasjoner i privat tjenesteyting
European Trade Unions: Coping with Globalisation?
Fleksibilitet og arbeidslivsregulering
The globalisation challenge: Convergence or divergence of national labour market institutions?
Norwegian trade unionism between traditionalism and modernisation
Redrawing Boundaries of Solidarity?
Farvel solidaritet?
Utdannelse, kvalifikasjoner og arbeid
Den norske forhandlingsmodellen
Den organiserte idretten på terskelen til 90-åras samfunn
Kluss i vekslinga
Fysisk aktivitet på arbeidsplassen
Ny norsk standard?
Fagbevegelsen og Europa
Idrett, fritid og organisering
Norsk økonomi og europeisk integrasjon
Fagbevegelsen og Europa. Debattopplegg
Lov eller avtale
Striden ved SAS-hotellet
Nordic trade unions and the social dimension of European integration
Fagbevegelsen, EØS og Den europeiske union
Arbeidslivspolitikk og fagorganisering i EØS og EU
Welfare as a productive factor
Collective bargaining in Northern Europe under strain
Changes in the occupational structure of Nordic employment: Upgrading or polarization?
Digitalization in Nordic manufacturing: Some case-study illustrations
Industrial relations in Norway