Towards a new Chinese welfare state – perceptions about distributive justice in China
Towards a new Chinese welfare state – perceptions about distributive justice in China
Friday 14 September 2018, 09:30–15:30
Fafo, Borggata 2B, Oslo
What do Chinese people think about redistribution and fairness, and how do these attitudes correspond with the government's efforts to build a universal "social safety net"? These were some main question for the start-up of the project in 2013. At this closing conference, we presented and discussed the results.


What kind of distributive inequalities are acceptable and not in the eyes of the Chinese public? Moreover, to what extent do social distribution and public goods provision mattered to the popular legitimacy of China's governing regime?
Central to the project "Towards a new Chinese welfare state – perceptions about distributive justice in China" was a 2014 nationwide survey of attitudes regarding distributive justice in China, as well as extensive experiments of social preferences and how to address inequality in society.
At this conference, we presented and discussed results from the research project. In addition, prominent international experts presented work on relevant topics that can provide further insight regarding welfare and inequality in China. International guests include Martin K. Whyte (Harvard University), Wang Feng (Fudan University), Jane Duckett (Glasgow University) and Wenfang Tang (Iowa University).
Program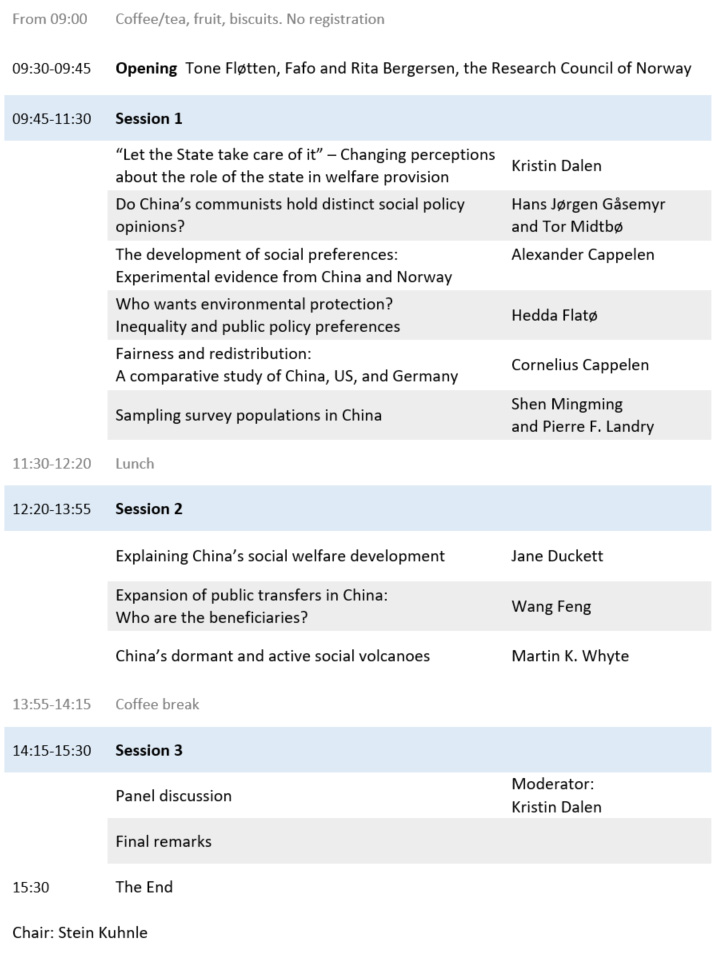 The project
The project has been financed through the Welfare, Working Life and Migration programme (VAM) of The Research Council of Norway. The project established comprehensive cooperation between researchers based in Norway (Fafo, University of Bergen, Norwegian School of Economics), China (RCCC at Peking University, professors at Fudan University and Ministry of Science and Technology) and the U.S. (Harvard University, New York University).
The project started out with the ambition to survey two Chinese provinces and implement experiments about social preferences and attitudes to distributive inequality. Through the lifespan of the project, additional funding was sought from the University in Bergen and the Norwegian Ministry of Foreign Affairs to expand the survey to cover all of China. Furthermore, the project secured access to comparable datasets from 2004 and 2009 through cooperation with Chinese and American partners. Experiments researching social preferences has been scaled up and an additional survey module based on the original survey in the project has been implemented in Germany and the US. Read more about the project
VAM-programmet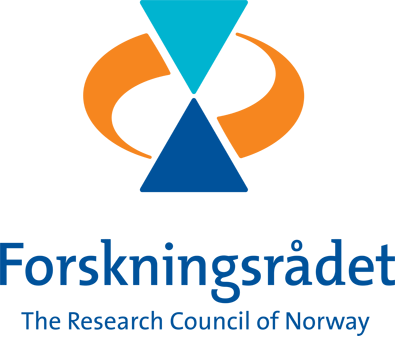 VAM is the largest social science research programme in Norway. The programme's main focus is on issues related to welfare, working life and migration, and it covers a wide area of topics, disciplines and sectors of society. Research topics for the program are aging, consequences of increased wealth, international migration, family and society, economic growth and organization of working life, and the support for, organizing and governing of the welfare society. See more on the VAM homepages
Publications
Academic papers in pair reviewed journals:
Whyte, Martin K. (2016): "China's Dormant and Active Social Volcanoes". The China Journal. 2016; 75 :9-37.

Gåsemyr, Hans Jørgen: "Gir det mening å sammenlikne arbeidsmigrasjon og velferd i Europa og Kina?" (Does it make sense to compare work migration and welfare in Europe and China?), (commentary article, in Norwegian). Norsk statsvitenskapelig tidsskrift, 197-206 vol. 2 2016.

Academic papers under review in pair reviewed journals:
Gåsemyr, Hans Jørgen, and Tor Midtbø: "Give, but Not Take: Attitudes toward Redistribution among China's Communist Party Members". Finalized and in review, international peer reviewed journal

Kristin Dalen: "Moral matters (most) at the top – money matters (most) at the bottom" - Dimensions of political trust - what matters when people decide to trust the government? Finalized and in review China Quarterly

Kristin Dalen: "Let the State take care of it!" - Changing perceptions about the role of the state in Chinese welfare provision. Finalized and in review Modern China

Reports / working papers:
Kristin Dalen and Hedda Flatø (2015), "Chinas Pension Reform: Towards Scandinavian-style universalism?". Fafo note

Op-eds:
• Kristin Dalen (2017): «Krigen mot fattigdom», Dagens Næringsliv, 16. september, 2017
• Hans Jørgen Gåsemyr (2017): «Mer enn laks og menneskerettigheter», NRK Ytring 5. april
• Kristin Dalen (2017): «Nå rettes verdens øyne mot Kina» NRK Ytring, 5. mars
• Hans Jørgen Gåsemyr (2016): «Fem kritiske år for Kina», Dagens Næringsliv, 12. mars. 2016
• Kristin Dalen and Kathinka Fürst (2015): «Krakk på kinesisk», NRK Ytring, 29. august
• Stein Kuhnle (2015): "Add a Nordic touch to China's welfare society" in China dail
Research area: China
Fafo has been conducting activities in China since 1994 and developed close and constructive cooperation with Chinese institutions. Fafo's research in China focuses on social, economic and political developments with particular attention to distribution, vulnerability, social sustainability and the impact of social transition for households. We also engage in policy analysis and dialogue with Chinese policymakers and researchers. Fafo operates a regional office in Beijing. Read more about this research area
Program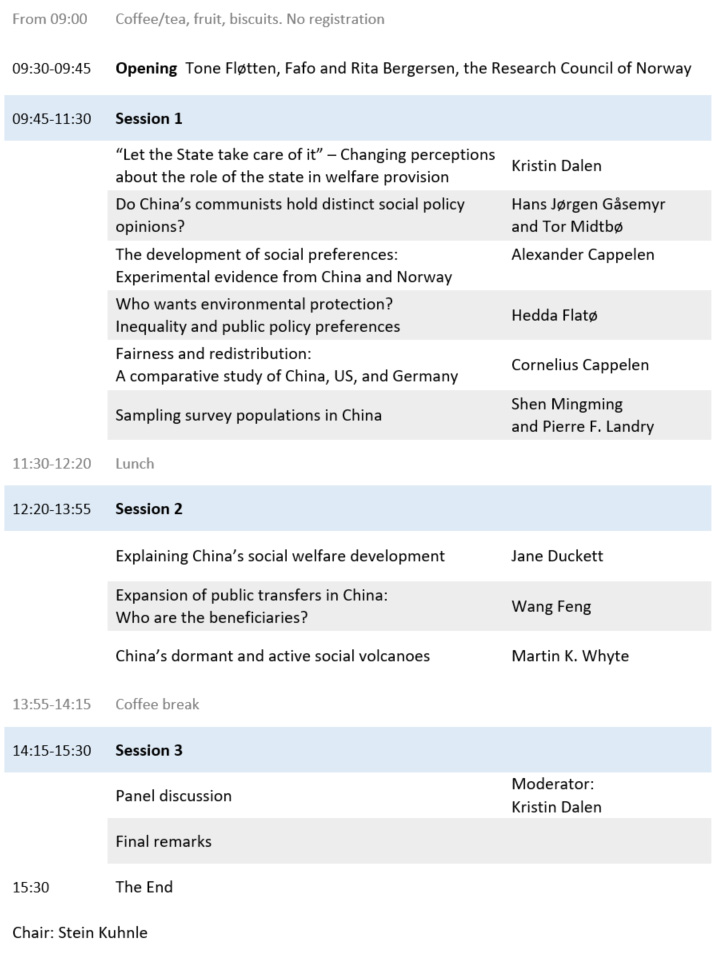 Prosjektet
Prosjektet har vært finansiert gjennom VAM-programmet til Norges forskningsråd. Prosjektet førte med seg et omfattende samarbeid mellom norske (Fafo, Universitetet i Bergen, Norges Handelshøyskole), kinesiske (Peking Universitetet, Fudan Universitetet, Ministeriet for forskning og teknologi) og amerikanske forskere (Harvard University, New York University).
Prosjektet skulle i utgangspunktet gjennomføre en survey av to kinesiske provinser, samt eksperimenter for å kartlegge utviklingen av sosiale preferanser og adferdsøkonomiske avgjørelser. Ved hjelp av tilleggsfinansiering fra det norske utenriksdepartementet og universitetet i Bergen var det mulig å utvide surveyen til å dekke hele Kina. Gjennom samarbeid med kinesiske og amerikanske partnere har prosjektet fått tilgang til sammenliknbare data fra 2004 og 2009. I tillegg har det blitt implementert en survey-modul i Tyskland og USA for å muliggjøre internasjonal sammenlikning av resultatene fra Kina, og eksperimentene i Kina har blitt oppskalert. Les mer om prosjektet
VAM-programmet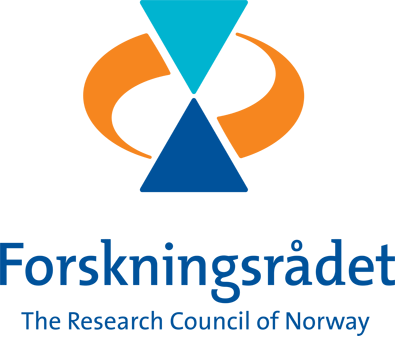 VAM er det største samfunnsvitenskapelige forskningsprogrammet i Norge. VAM står for velferd, arbeidsliv og migrasjon, og programmet dekker et stort tematisk felt, mange disipliner og samfunnssektorer. Programmet startet i 2009, og avsluttes nå i 2018. Blant temaene som løftes fram er aldring, konsekvenser av økt velstand og rikdom, internasjonal migrasjon, familie og samfunn, verdiskaping og organisering i arbeidslivet, og oppslutning om, organisering og styring av velferdssamfunnet. Les mer om VAM på nettsidene til Norges forskningsråd
Relevante publikasjoner
Artikler i akademiske tidsskrifter:
Whyte, Martin K. (2016): "China's Dormant and Active Social Volcanoes". The China Journal. 2016; 75 :9-37.

Gåsemyr, Hans Jørgen: "Gir det mening å sammenlikne arbeidsmigrasjon og velferd i Europa og Kina?" (Does it make sense to compare work migration and welfare in Europe and China?), (commentary article, in Norwegian). Norsk statsvitenskapelig tidsskrift, 197-206 vol. 2 2016.

Academic papers under review in pair reviewed journals:
Gåsemyr, Hans Jørgen, and Tor Midtbø: "Give, but Not Take: Attitudes toward Redistribution among China's Communist Party Members". Finalized and in review, international peer reviewed journal

Kristin Dalen: "Moral matters (most) at the top – money matters (most) at the bottom" - Dimensions of political trust - what matters when people decide to trust the government? Finalized and in review China Quarterly

Kristin Dalen: "Let the State take care of it!" - Changing perceptions about the role of the state in Chinese welfare provision. Finalized and in review Modern China

Rapporter:
Kristin Dalen and Hedda Flatø (2015), "Chinas Pension Reform: Towards Scandinavian-style universalism?". Fafo note

Kronikker:
• Kristin Dalen (2017): «Krigen mot fattigdom», Dagens Næringsliv, 16. september, 2017
• Hans Jørgen Gåsemyr (2017): «Mer enn laks og menneskerettigheter», NRK Ytring 5. april
• Kristin Dalen (2017): «Nå rettes verdens øyne mot Kina» NRK Ytring, 5. mars
• Hans Jørgen Gåsemyr (2016): «Fem kritiske år for Kina», Dagens Næringsliv, 12. mars. 2016
• Kristin Dalen and Kathinka Fürst (2015): «Krakk på kinesisk», NRK Ytring, 29. august
• Stein Kuhnle (2015): "Add a Nordic touch to China's welfare society" in China daily
Fafo i Kina
Fafo har drevet forskningsaktiviteter i Kina siden 1994, og har utviklet et nært samarbeid med kinesiske institusjoner. Fafos forskning i Kina konsentrerer seg om velferd, fordeling, sårbarhet og sosial bærekraft, med spesiell vekt på konsekvenser av sosial og økonomisk endring for folks hverdag. Fafo er også engasjert i politiske analyser og i dialog med kinesiske myndigheter og forskere. Fafo har et regionkontor i Beijing. Les mer om Fafos forskning i Kina (engelsk)